The testimony left by the Great War is to be found today in the diaries and the letters of the soldiers and the people of Sesto, in the photographs of the destroyed village and in the family memoirs of that tragedy, but also in the works that incredibly have remained on the mountains.
The Bellum Aquilarum Historical Park would like to restore and preserve the more important of these works built by the soldiers that have managed to resist the ravages of time, 100 years after the war. These includes communication trenches, trenches, gun emplacements, cable car stations, access paths and tunnels.
The restoration and valorisation operations will necessarily be limited, however, both because of the resources available and because of the need to act with appropriate care in order to respect the natural environment protected by the Parco Naturale di Sesto.
The photographic campaign is thus of fundamental importance in preserving the knowledge of that which still remains but will not be retrievable or conservable. It is important to photograph all that is to be found on the mountain which cannot be restored or salvaged, so as to preserve the knowledge of it. We consider this to be an extremely important legacy for the future, making for a better and more complete understanding both of the events that took place on the mountain, and of our history.
The photographic campaign will naturaly also include those works which have been subjected to conservation and salvaging. Hence the restoration works can be developed on the basis of a complete documentation of the state of affairs, paving the way to a correct and solid philological approach to the operations.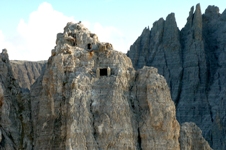 The photographic documentation gathered in this way will play a fundamental role within the various means of communication used to inform the public about the Bellum Aquilarum project: web site, brochures, posters and publications.
The photographic campaign has already started, thanks to the collaboration of a professional photographer with considerable experience in historical documentation of this kind in other similar projects.