"Traces of our history" Project

During the First World War, the peaks of the Dolomites witnessed a war unique of its kind in the world. The Austro-Hungarian and Italian soldiers lived and fougth on mountain peaks that had until then been totally untouched, challenging the climate and the altitude and achieving technical and organisational feats worthy of the first modern war.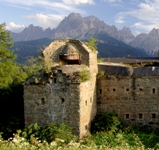 This war brought enormous upheaval to the lives of the population of South Tyrol. The difficulties and suffering were particularly marked in Upper Pusteria (Alta Pusteria); the population of Sesto di Pusteria was evacuated and the villages of Sesto and Dobbiaco were bombed by the Italian army.
The front line of battle run along the peaks that delimit the Pusteria Valley, and in those mountains the armies faced each other in a technological and organisational challenge without equal in the history of man.
The Croda Rossa, with its testimony left by the soldiers, bears priceless historical testimony to the wartime vicissitudes of the high mountains, but also of the history of the mountain troops: the Kaiserjaeger, the Alpini and the Alpenkorps, who here faced each other. This war marked the end of an era and the birth of the Europe in which we live today.
What happened here has a value that goes beyond the memory of the inhabitants of Sesto to become an emblem of all armed conflicts. Sesto can today preserve that memory and make it known to all, at this moment of time in which the former enemies are building a new Europe together. The "Bellum Aquilarum – Traces of our history" project aims  to save the historical testimony to the Great War from destruction by means of an organised and coherent set of inititatives: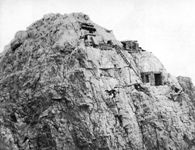 the recovery, valorisation and conservation of the surviving testimony of the Great War in the villages of Sesto and on the Croda Rossa, with the creation, in collaboration with the Natural Park, of a large open-air museum
the creation of a historical archive
the furthering of historical research and collaboration with the historical institutions and archives of all the countries once belonging to the former Habsburg Empire sharing those memories.